The best iPhone X cases: T3's curated selection of top cases for Apple's flagship smartphone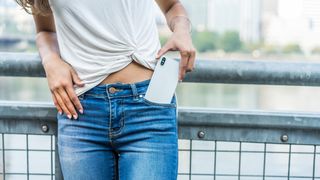 If you're looking for the best iPhone X cases on the market today then you've come to the right place. After scouring through a plethora of new cases released for Apple's latest flagship smartphone, here we present the crème de la crème from the best case manufacturers that you can buy today.
We've worked hard to provide a range of iPhone X case styles and types too, meaning that no matter your preference, we're sure you'll find a case here that you'll want to protect your iPhone X with.
iPhone X cases - how do you choose a good one?
Choosing a good iPhone X case is not something you should take likely. The iPhone X is a beautiful piece of technology, so you want to maintain those sleek lines as much as possible, but also it is a serious investment and one that deserves premium protection. As such, you need to determine what you prize most, and also how much you are willing to spend, as while these cases are class, no case delivers the best in everything, with some geared toward maximum protection, others toward keeping the phone looking top dollar, and others prising portability and compactness.
What's the best design of iPhone X case?
There are many different types of iPhone X case, including bumper, folio, flip, sock, pouch, sleeve, skin, wallet and clip, and evaluating your lifestyle and likely usage scenarios is absolutely critical in deciding which will be the best design/s for you.
For example, if your job means that you are on the phone 24/7, then a pouch or sock case would not be ideal, as you'll spend ages constantly pulling it out and then putting it back in (quiet back there in the cheap seats!), and when your iPhone X is in use, you then run the risk of a completely unprotected drop or fall. In reality, you should probably have chosen a bumper or clip case instead.
On the other hand, if your iPhone X is used less as a work tool and more as a leisure device, having a chunky bumper case is not ideal either. In these sort of scenarios, such as nights on the town or meals with friends, a slim sleeve, skin or folio iPhone X case would be preferable.
The type of iPhone X case you choose should also be determined by how you intend to store it while going about your daily life. For example, if you tend to throw your phone in carrier or handbag filled with various other items such as keys, deodorants, tablets, cash wallets, hair brushes, nail clippers etc, then picking, say, a leather folio case might not be best option, as sharp or hard objects will scratch it up in no time, leaving it looking tatty. In these cases, it may be better to go with a sock or pouch, or maybe a bumper with additional screen protector.
Who are the best iPhone X case makers?
Unsurprisingly there are A LOT of case manufacturers for iPhone due to the platform's popularity across the globe, however, they are certainly not all worthy of your time. Here at T3 Towers we think these iPhone X case manufacturers are the best of the bunch: Nodus, Greenwich, Snakehive, Foxwood, Mophie, Ted Baker, iVapo, X-Doria, Griffin, Proporta, Speck, Tech21, Spigen, Ringke, Mujjo, Caseology, Olixar, Mous, and VRS Design.
What follows is some of their best work to date.
Best 12 iPhone X cases
02: Patchworks Level Series Silhouette iPhone X
A clean bumper design with excellent drop protection
Certified U.S Military Drop Protection
1.8mm raised front lip
Air Pocket Interior
Now this is how you do a bumper case. The Patchworks Level Series Silhouette for iPhone X sports an ultra-modern design, comes in five cool colour schemes, and rocks a U.S. Military Drop Protection certification thanks to its advanced Poron XRD corner tech. The case also ticks essential bumper case boxes, including a 1.8mm raised front lip, air pocket interior and dual material construction (PC/TPU). Excellent, stylish protection for heavy users.
Price: TBC | Pre-order Patchworks Level Series Silhouette